Share
Make an impactful first impression
Stand out with a gloss, matte or uncoated finish
Thick, premium quality cardstock
Opt for a standard or custom size
View full details
---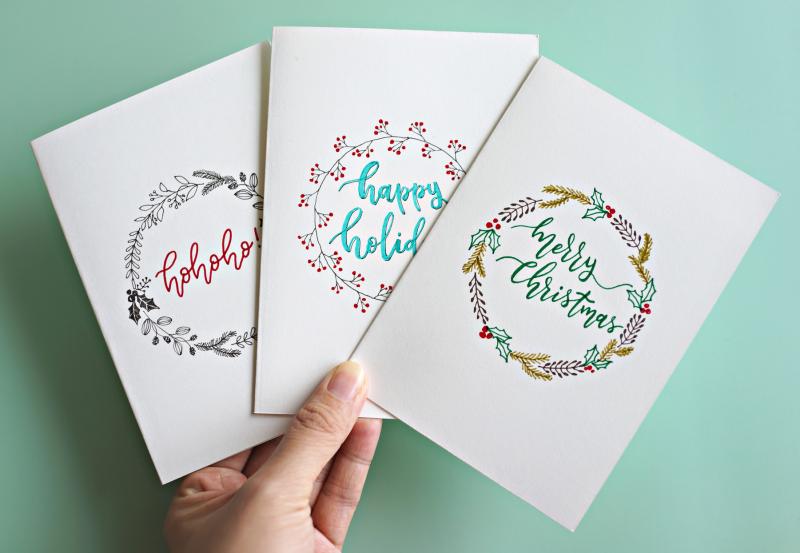 Custom greeting cards can be sent during the holiday season, wedding season, or, frankly, any time that you want to greet someone. We've got several ideas about how you can make your custom greeting cards for business stand out from the crowd. In fact, we've got so many ideas, we have a graphic design team ready for your order. They will take your 'on the napkin' ideas and put them into practice with expert precision. Our design team is free with every printing order.
Options for Greeting Cards:
Here is an overview of some of the things we offer for every order of greeting cards:

● Die Cutting - Whether you're printing holiday trees, ornaments, or presents, die cutting helps those who want to put a little extra flair into their printing. We cut any design that you can think of right into the cardstock.

● Folding - Need your greeting cards folded for easy insertion into your custom printed envelopes? We can fold it for you. We also have folding greeting cards mockup.

● Foiling - Gold or silver foil can bedeck your cards just as easily as decking the halls. At BestoPrint, our custom foil greeting cards catch the attention of everyone around.

● Embossing - Have a design that you want your clients to feel? Embossing lets your clients touch the 80lb or 100lb cardstock and feel texture when they run their hands across it.

● Metallic Inks - Not just for the envelopes! Metallic inks add a sparkling flair to your printing project. You can have letters, artwork, your logo, or anything that you'd like highlighted with metallic ink. Just give us a call at 571-530-7277 to get the ball rolling on your inks.

The BestoPrint Difference
★ Free shipping and handling
★ Free graphic design with every print order
★ Unbeatable customer satisfaction guarantee

It's time to get your order started of your custom gold foil greeting cards ! Just upload your artwork, and we'll have your cards back to you soon!