Share
Make an impactful first impression
Stand out with a gloss, matte or uncoated finish
Thick, premium quality cardstock
Opt for a standard or custom size
View full details
---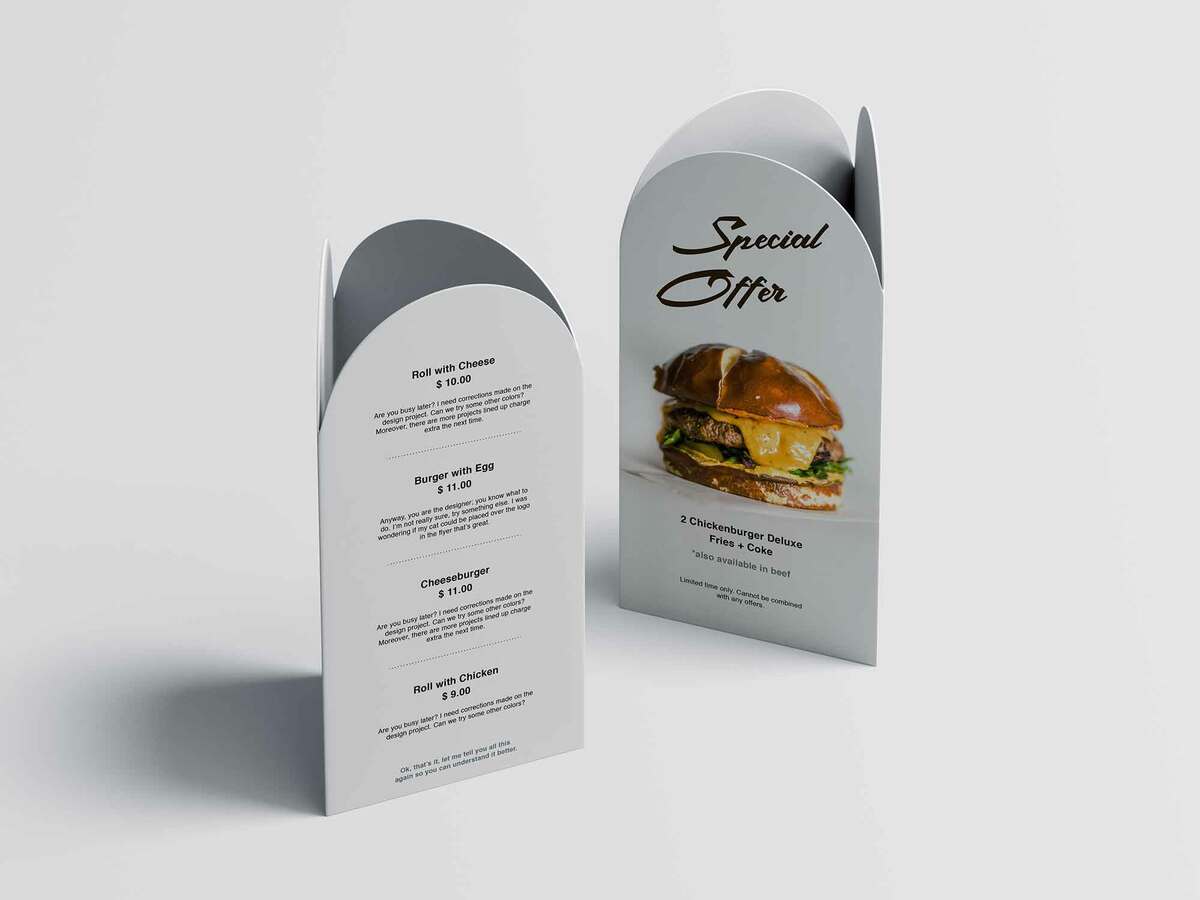 Sometimes you need a small and long table tent to advertise seat placements for events like business meetings, weddings, and conventions. Our custom printed table tents is perfect for this purpose. These long and low table tents make your presentation panel look much more professional. We can provide you a table tent template so you can ensure you have a design that works with both our printers and yours. They all come pre-creased for easy folding and with interlocking tabs on the ends to form the final shape. Table tents invite people to pick them up and turn them around, so don't be afraid to use two different messages!
Options for table tents printing
We print your table tents flat for easy shipping. They are scored so that you can easily fold them and put them together for your tables, counters, and other surfaces. You can also get:

Free Graphic Design Services with Every Order -We offer free graphic design services with every single order. If you don't have time to do the design or aren't sure of how to get your design elements exactly where they need to be, we're here for you.

Full Color CMYK or PMS Printing -CMYK lets you put full color photos on your table tents so that you can show pictures of smiling, happy people, laughing and smiling. If you've got other designs, we can accommodate you with PMS printing where you can make your effective designs in 1 or 2 colors.

Die Cutting -Die cutting allows you to put custom shapes into your printed table tent. Want to make a tent shaped like a wine bottle to demonstrate the wine list? How about in the shape of a sushi roll? No challenge is too great.

Embossing -We can emboss certain bits of your table tent, raising your images in relief on the surface.

Foil Stamping -Foil stamping embeds gold or silver foil directly into the surface of the table tent printing. Then, we can emboss it so that the foil stands out for your customers.

There are lots of things you can do with this type of table tent. You can ask our design team for ideas on how you can use it for things other than nameplates. Make it out of a heavier card stock and you could reuse them!


The BestoPrint Difference
As with all of BestoPrint's offerings, you also receive our standard features:

● Free design team consultation and template for your order.
● Free shipping and handling
● Quality and satisfaction guarantee

Order a set of custom table tents from BestoPrint today. To start, send us your design files using the form at the top of the page, or call us directly to speak with one of our printing experts.