Share
Make an impactful first impression
Stand out with a gloss, matte or uncoated finish
Thick, premium quality cardstock
Opt for a standard or custom size
View full details
---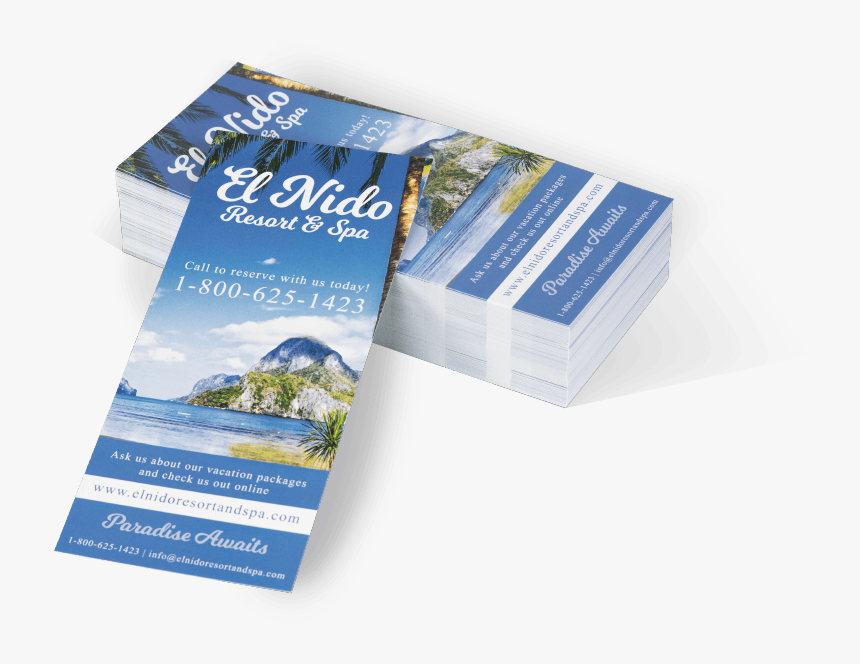 Rack cards are present in every hotel, highway rest stop, and tourist information center. They are, literally, cards advertising local attractions in a rack. These attractions range from special restaurants in the local area to museums. We've even seen entire cities recommended on rack cards. If you've got something that would be an amazing experience for tourists around the area, rack card printing makes the perfect option for you.
Options for Custom Rack Card Printing:
Can be printed in 3.5 x 8.5" or 4 x 9" - While rack cards can come in all shapes and sizes, the most effective ones are tall enough to peek over the rack, but not too tall as to topple over. Since racks are also able to accommodate brochures, many rack cards can be thought of as one-third of a brochure.

100lb card stock - When placing the card into the racks, the paper needs to be heavy enough to stand upright. 100lb card stock is thick enough to be seen and not flop over the rack that it's been placed in. Most professional cards are printed on this type of cardstock.

Full Color CMYK / PMS Printing Process - The CMYK process allows you to print nearly any color under the sun. If you're able to dream of it, we can print it. For those who need specific color matching, we use the Pantone Matching System. We can print your rack cards in color on both sides.

UV Glossy Coating - UV coating is a special coating which makes your printed rack cards appear to be glossy. That little bit of gloss might be just the thing that attracts new customers to your location.

Die Cutting - Die cutting and embossing are for those who want a little something extra on their rack cards. Let's say that you have a great menu and you want to simulate 'taking a bite' out of the rack card. Our die cutting service lets you do just that.

Embossing - How about a 'seal of approval' on your newly printed custom rack cards? Embossing imprints text or a design into the paper, letting you feel a different texture in the paper. Embossing works very well if you want to make your documents look more official.
Best Practices for Custom Rack Cards
Rack cards are excellent tools for attracting new visitors to your establishment. With a rack card, your goal is to bring excitement to your attraction, letting people know not only how to get there but the wonders that they can expect when they reach your place. Let's take a look at how you can make your rack card designs even more effective.

Top Down - One of the most important things to remember about rack cards is that you can only see the top third of the card in most cases. That top third has to be enticing enough for someone to pull the card out of the rack. So, it always works best that you put your call to action right up front. 'See White Water!' or 'Experience the Falls!' and those types of pleas are always seen first.

Be Short and Sweet - Rack cards aren't necessarily the time to write a dissertation about the history of the city. You want to give your potential readers just a taste of what's going on to make them look further into your establishment. So, give away a little, but leave them wanting more.

Don't Forget the Contact Info - What's good about inspiring curiosity if you don't follow through and make sure that they are able to contact you and your staff? Make sure that they have your contact info, but there's no need to go overboard with that. The website and phone number will work well.

QR Codes - Another place where you can embed information is in the QR codes. Yes, there are still people who use the QR code as a conduit to information. By putting this into your rack card design (if appropriate) you have the chance of attracting younger people to your venue.

Consider Branding - Branding is the art of making sure that all of your colors, your message, and the rest of your establishment is consistently on point. You want to give your customers a window into your business by the use of your rack card. If it's not consistent, you may face issues further down the line.

A/B Testing - A/B testing is crucial in all marketing campaigns. Take a moment to examine the wording for your rack card. Are there better ways that you could state your case? If you have separate venues for your cards, which one does better? Are there elements which cater more to your audience than others? When you employ A/B testing with your rack cards, you can get more visitors through the door.

High Contrasting Colors - To attract attention, we suggest that you print using colors that contrast well with each other. We've seen a lot of rack cards in our time, and have found that light colors on dark cards perform especially well. One effective use of color is to have light colors on dark backgrounds for the front of the card and then the opposite on the back. This is seen a lot for those who have maps.
Getting Your Rack Cards Printed at BestoPrint
Getting your rack cards printed at BestoPrint is a snap. All you have to do is click on one of the buttons above to get the order started. If you've got some artwork ready, all the better. We can print out the quantity that you want with the extras that you want and have it turned around for you by the next day. We also offer free shipping on all of our printing so you can quickly get your message out there.

If you need help with your rack cards, let our design team help you out. We can make your message stand out with your rack card printing. Start your order now.

Topping it off, we also have a 100% customer satisfaction guarantee!
Thousands of business professionals trust us with their printing.
Free designing.

Free designing and your files will be reviewed for printing errors without paying a cent.

More printing.

150+ print products to help you make a good impression. 1000+ options to customize to your heart's content.

Reliable. Always.

The product you want. The way you want. Professional printing guaranteed.