Share
Make an impactful first impression
Stand out with a gloss, matte or uncoated finish
Thick, premium quality cardstock
Opt for a standard or custom size
View full details
---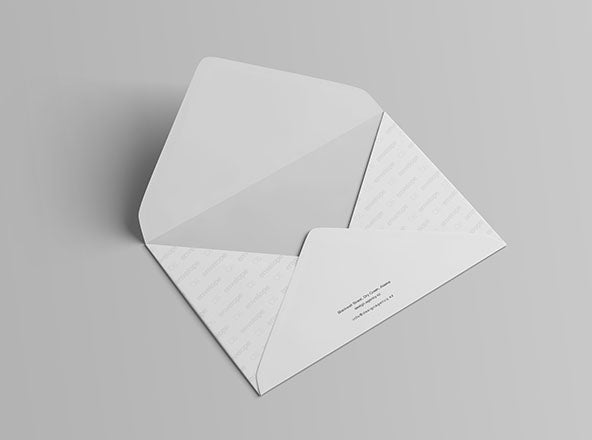 At BestoPrint, we can make letterhead packages for you, including the envelopes, the business cards, and the letterhead. By printing everything with the same printer, you're eliminating the chances of variations in color - as all of your items will be printed in the same run. A great envelope to include with your package are our C6 envelopes. The envelope C6 size are designed to fit A6 paper. They are generally 4.5" x 6.4", and are made to fit greeting cards, invitation cards, and other special event material.

If you're unsure about what you should put on your printed envelope C6, we have a design team for you. This service is free with every printing order. We have years of experience making envelopes that work for our customers. Give them a call at 571-530-7277 for more information on how to get your order started.
BestoPrint's Option for Envelope Printing
★ Die Cutting - Want the flaps to look a little different on your C6 envelope? Do you want the front to have designs etched right into the paper? Die cutting does that for you.

★ Metallic Inks - We can cover large swaths with metallic inks, for those who want to create the perfect greeting cards. Let them know that you like to shine with blue, green, red, gold, silver, or bronze metallic inks.

★ Full Color - It's all about the color. Your C6 envelope printing can have color anywhere we can put it. Most choose to put color on the upper left corner, but there are some who want it on the back flap as well. If you're sending an invitation to a deal, let them know what they're in for on the outside of the envelope.

★ Spot UV Coatings - Need gloss in places where you don't normally see it? The spot UV coatings that BestoPrint can put on your envelopes will get you there. This is excellent for emphasizing certain parts of your printed C6 envelope.

★ Shipping Services - We can take care of the complete run. Not only can we create and print the greeting cards, but we can also take care of everything after the printing. We'll stuff, seal, stamp, and ship those out for you.
Why BestoPrint?
We are absolutely dedicated to making sure that you're happy when you place an order with us. Free shipping and handling comes with every order. We're so sure that you'll like us, we even have a 100% customer satisfaction guarantee.

It's time to get your order started. Use the drop-down menus or call us at 571-530-7277.