Share
Make an impactful first impression
Stand out with a gloss, matte or uncoated finish
Thick, premium quality cardstock
Opt for a standard or custom size
View full details
---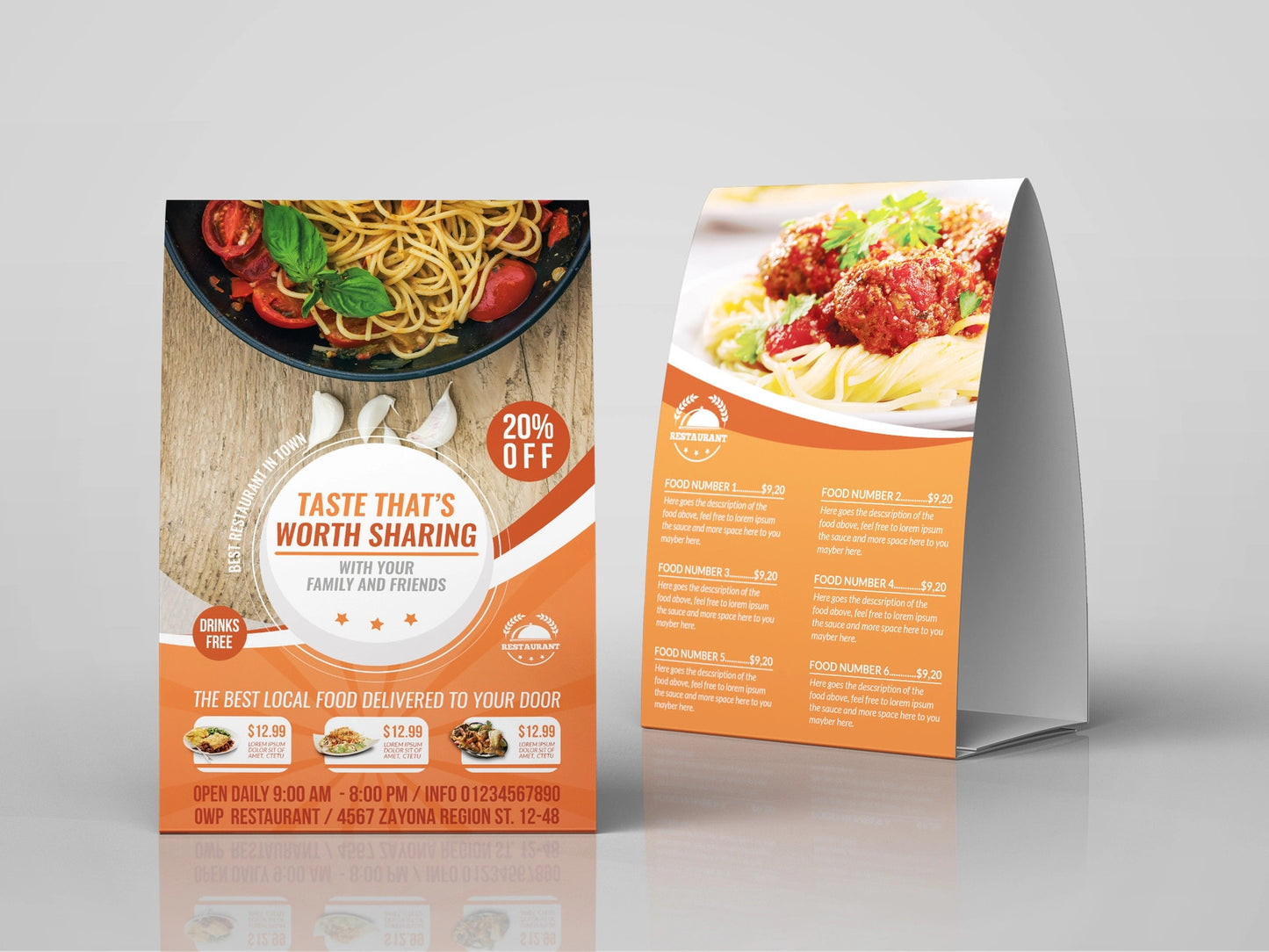 Every surface in your restaurant or brick and mortar business becomes an opportunity to get out your marketing messages. 4.25 x 5.5 table tents are an excellent solution to tastefully and dynamically fill the space to advertise the specials of the day or an upcoming event to your eager audience.
Options for custom 4.25 x 5.5 table tents
We print your table tents flat for easy shipping. They are scored so that you can easily fold them and put them together for your tables, counters, and other surfaces. You can also get:

Free Graphic Design Services with Every Order - We offer free graphic design services with every single order. If you don't have time to do the design or aren't sure of how to get your design elements exactly where they need to be, we're here for you.

Full Color CMYK or PMS Printing - CMYK lets you put full color photos on your table tents so that you can show pictures of smiling, happy people, laughing and smiling. If you've got other designs, we can accommodate you with PMS printing where you can make your effective designs in 1 or 2 colors.

Die Cutting - Die cutting allows you to put custom shapes into your printed table tent. Want to make a tent shaped like a wine bottle to demonstrate the wine list? How about in the shape of a sushi roll? No challenge is too great.

Embossing - We can emboss certain bits of your table tent, raising your images in relief on the surface.

Foil Stamping - Foil stamping embeds gold or silver foil directly into the surface of the table tent printing. Then, we can emboss it so that the foil stands out for your customers.

We also offer aqueous coatings for your printed table tents. Do you want the tents to be glossy? How about a strict matte finish? We can make it happen for you.
Why BestoPrint?
Don't forget that with every order, you also receive:

Free shipping and handling
Free design with every printing order
Customer service guarantee

Start your order of 4.25 x 5.5 table tents printing today!